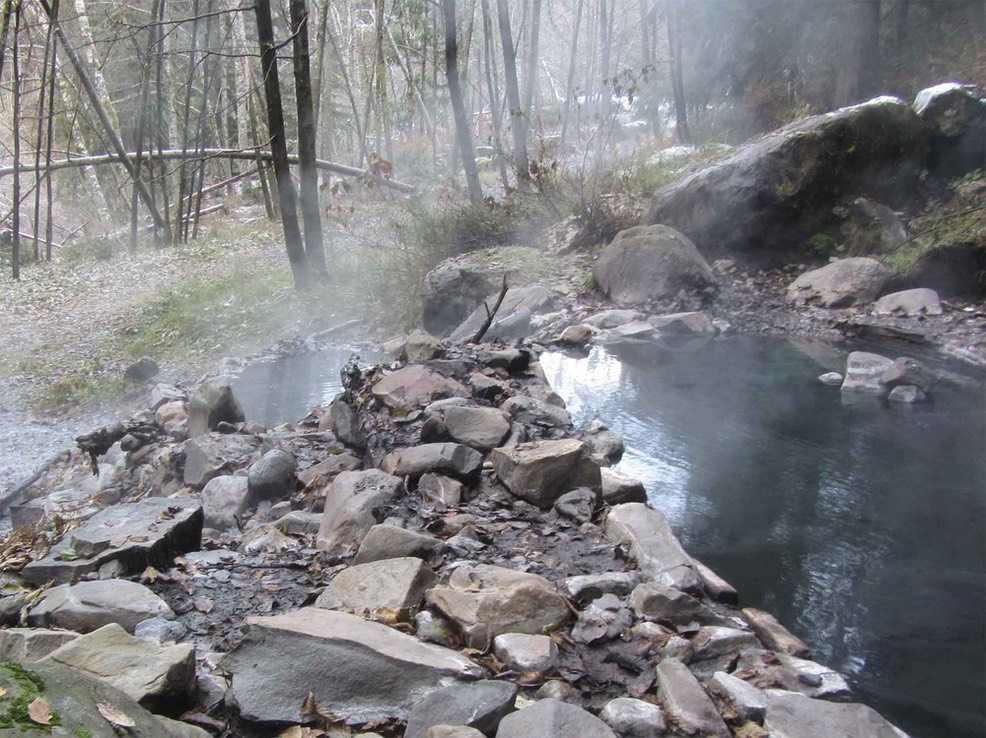 NOTE: The Olympic Hot Springs are still there, but Olympic Hot Springs Road is closed at Madison Falls. While it is possible to get to the hot springs on a day hike, it is a VERY long hike. It is more of a camping trip. Another option is to bicycle, though this means managing a bicycle along a good stretch of hiking trail. Hiking to the Altair Bridge (1:10 each way) or the Dam Overlook (1:45 each way) are good alternatives for exploring the Elwha Valley.
----
Like the Elwha River itself, these hot springs were once tamed, but they are once again wild. Olympic Hot Springs Road used to run nearly all the way to the hot springs themselves, but it now ends about two and a half miles before. The trail is easy hiking as it follows the old roadway. The scenery is woodsy, but the real treat is at the springs where the hot sulphurous water bubbles from the ground and flows across the trail down into a side stream. There are a number of hot spring pools, some natural, but most man made, so you can stop for a soak if you wish.
TIME: Allow at least 2:20 for the round trip hike and some time to explore the springs.
NOTES: Easy hiking.
Time: 2:20
Driving time from Port Angeles: 0:35
Admission: ONP admission required
Facilities: None