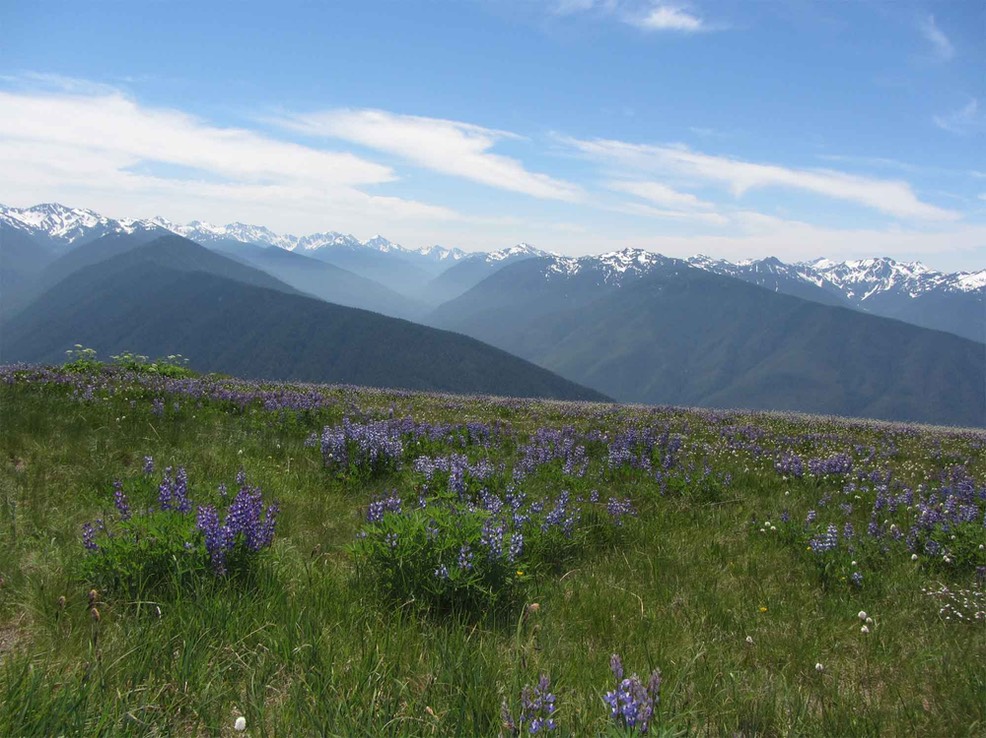 Hurricane Ridge is a mile high ridge with a view into the heart of the Olympic Mountain Range. There are astounding views of the distant, snow capped mountains from the lodge and a short walk from the parking lot offices an equally amazing view of the Strait of San Juan de Fuca, the San Juan Islands, Vancouver Island and points north. The deer are friendly and will lick the dead bugs off your car's fender for the salt. Watch for golden marmots, ravens and sage grouse. The fields are full of alpine flowers, phlox, avalanche lilies, lupine, yarrow, corn lilies and cow parsnip, each in their season. If you know where to look, there are small carnivorous plants in the bogs. The snow improbably lingers into August. In the autumn the grasses turn golden and the air grows crisp.
The summer season, however, is limited. Some years the snow pack doesn't melt until July and the first snows may fall in late October. It is worth checking the park web site if you are visiting in the spring (June or before) or late in the fall. There is a winter season that usually starts towards Christmas and the park service tries to keep the road open on Fridays and weekends. Even if the road is open, you are required to have snow chains for your car, and if it is snowing or there are white out conditions, the road may be closed with no warning. It is still worth the drive with the ridge turned into a fantastic snowscape, open for skiing - cross country and downhill, snow shoeing and just plain trudging.
HURRICANE RIDGE OPPORTUNITIES
Hurricane Ridge - There are trails for all appetites starting at the lodge. A short walk offers views of the Strait of San Juan de Fuca. A slightly longer walk takes one up Sunrise Point for an even more spectacular view of the mountains. The truly energetic can hike from the lodge to the top of Klahane Ridge.
Hurricane Hill - A short drive (0:10) past the main ridge parking area takes one to the Hurricane Hill trailhead. This is one of the most beautiful trails in the park. It follows a ridge through the sky, ascending nearly 700' to Hurricane Hill with its panoramic views of just about everything.
Klahane RIdge - Climbing Klahane Ridge is a physical challenge, but the trail takes one through some of the most beautiful meadows, the so called "hanging gardens", lush with alpine plants and flowers. You can hike from the lodge or from the Switchback Trail trailhead a bit down Hurricane Ridge Road.
Obstruction Point - Obstruction Point Road generally opens late and closes early, but it takes one on a breath taking drive through the heart of the mountains. The road is narrow and unpaved, but the journey and the hikes starting at the Obstruction Point trailhead are beautiful and otherworldly.