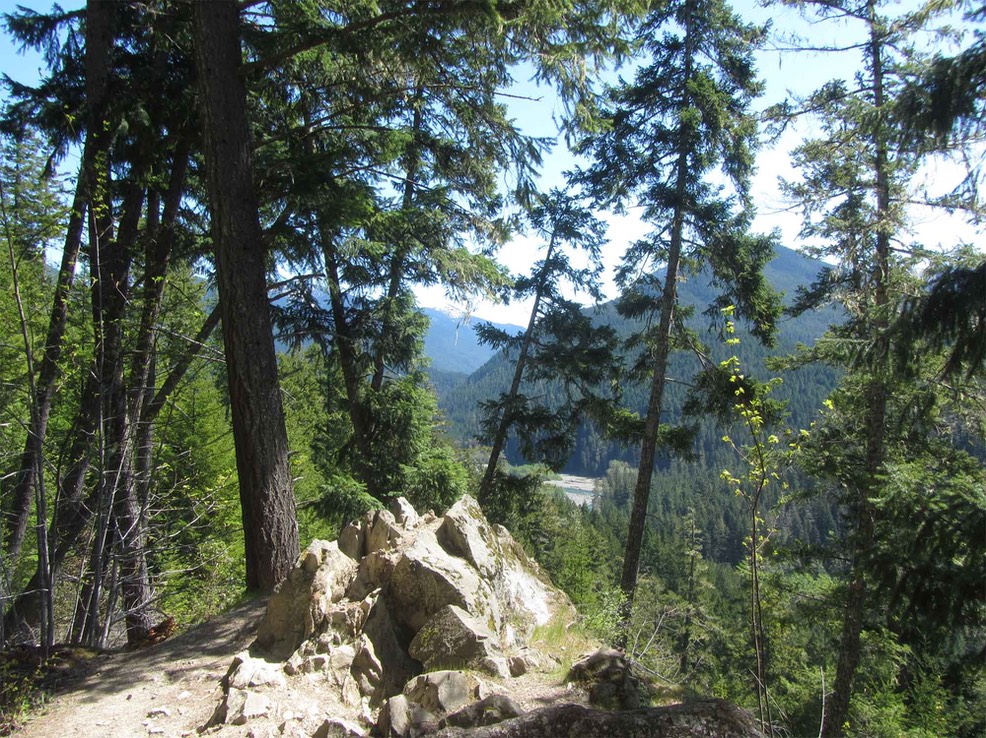 NOTE: Olympic Hot Springs Road is closed at Madison Falls, so it is a good hour of hiking from the parking lot to the start of 4.5 mile long Whiskey Bend Road. This just means a bit more walking for campers, but it rules out day trips unless one is willing to bicycle and then hike.
----
There are a number of hikes one can take out of Whiskey Bend, but first you have to get there. The drive itself is part of the experience as it follows the old Hurricane Hill Road, now an unsealed, one and a half lane driving challenge. You will have to mind your speed, pay attention to the road, and be friendly to other drivers. They are probably not blocking your way intentionally. There is sometimes nowhere else for them to go. 
Until recently, Google Maps actually recommended this route, but the road ends at Whiskey Bend about 0:30 from Port Angeles. En route there is a pullout where you can explore the remains of the old dam and get a view of the river running through a valley which was once Lake Mills. 
There are all sorts of hikes possible from Whiskey Bend, many with views of the river. Most of them run through second growth forest, but the forest changes. In some areas it is stunted. In others it is wild and green. In the spring, listen for the deep croak of the sage grouse's lekking call. There are little waterfalls, two historical sites as this area was once agricultural and the call of the Elwha River itself. The main trail follows the Elwha Valley to Michael's Cabin, about 0:40 from the trailhead. From here you can head down towards the river via Hume's Ranch and then follow the river farther west or back east and take an alternate route back to the trailhead via Krause's Bottom or Rica Canyon.
You can also take the ascending trail at Michael's Cabin and head towards the Lillian Camp on the Lilian River. This trail crosses two streams in forested glens, passes through a stunted forest and then descends to the river.
TIME: Allow at least two and a half hours for a round trip and some time to explore. Allow about four hours if you head to Lillian Camp.
NOTES: Moderate difficulty, some ups and downs. Drive friendly.
Time: 2:30, Lillian Camp 4:00
Driving time from Port Angeles: 0:30
Admission: ONP admission required, additional fee for parking ???
Facilities: Bathroom at Elwha Ranger Station, latrine at Whiskey Bend
Kaleberg Web Site - Elwha River Trail