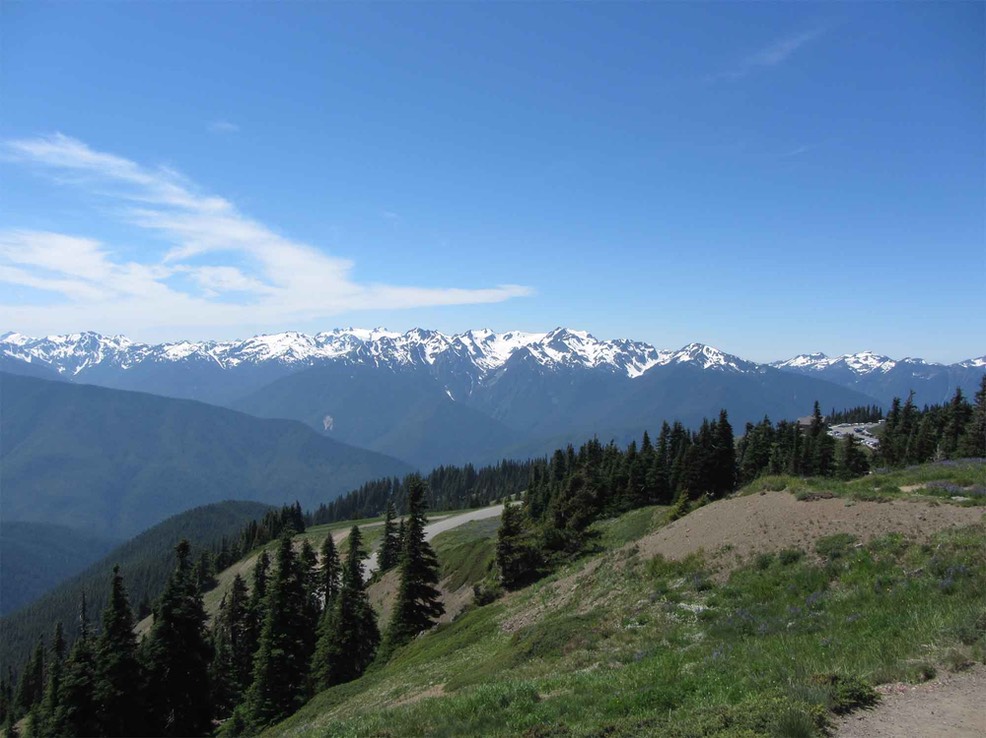 The lodge at Hurricane Ridge is a great starting point for any visit, and the view is a must see if you are visiting the area. There are guides to the local plants, rangers and volunteers to ask questions of, a short movie, topographic map of the peninsula, a snack bar, bathrooms, a sourvenir shop, and a plaque honoring Senator "Scoop" Jackson who was instrumental in the creation of the park. You can ignore all this, however, and just admire the view, from the lodge or from the surrounding trails.
There is a small network of trails starting across the parking lot from the lodge. Some are flat and paved, and even a short walk can have a huge payoff in terms of views of the Strait of San Juan de Fuca, the islands, Mount Baker and just about everything else. Even in the summer, there are often patches of snow, and the local deer are almost tame, possibly too tame. You can take an guided walk from the lodge or just explore on your own. Stay on the trail and watch for alpine flowers. They aren't hard to find. Climb Sunrise Point and, if you are more ambitious, follow the ridge towards the Klahane Ridge trail.
TIME: Be kind, give yourself at least an hour.
NOTES: Easy to moderate trails. Guided tours. During peak summer weekends, it pays to come early as the parking lot can fill. Wide open from July through September, otherwise check the web site for conditions.
Time: 1:00 or more
Driving time from Port Angeles: 0:45
Admission: ONP admission required
Facilities: Water, bathroom, pay phone; in summer - snack bar, souvenir stand, ranger guided tours, maps; in winter - snow shoe and ski rental, ski lift
Kaleberg Website - Hurricane Ridge