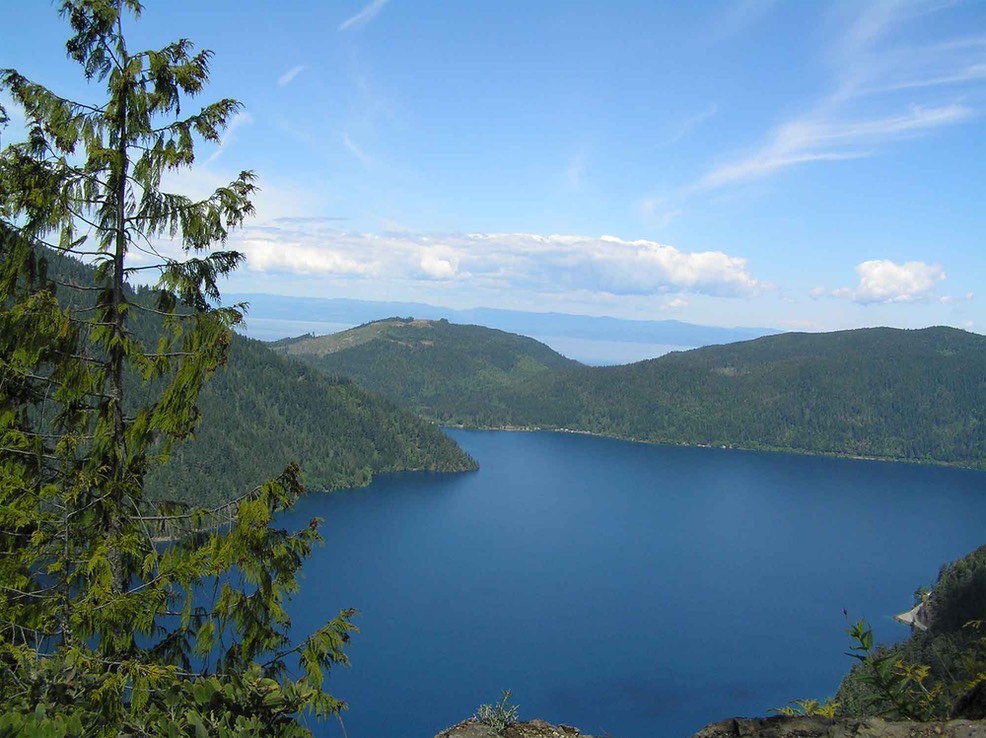 Lake Crescent is both beautiful and accessible. Route 101, the main road in the area, runs along its south shore, and this stretch is the single prettiest along the entire route. It is a twisty route, as it follows the contours of the lake. The lake itself is stunning, with Mount Storm King and other mountains to the south and Pyramid Peak, the focal point to the north.
LAKE CRESCENT OPPORTUNITIES
It pays to stop at Barnes Creek. There are bathrooms, trailheads and Lake Crescent Lodge. You might consider staying at the lodge, but if you are planning to stay during the summer season, book early.
Marymere Falls is easily accessible from the Barnes Creek area. The trail passes under the road and into the rain forest. There are big old trees, views of Barnes Creek, rustic bridges and a modest climb to the two viewing points for Marymere Falls. 
Mount Storm King is a challenging climb that starts alond the route to Marymere Falls. The 1350' climb to the overlook is steep. There are rocks and tree roots to use as stairs. The overlook offers impressive views of Lake Crescent, Pyramid Peak, Vancouver Island and the Strait of San Juan de Fuca.
Barnes Creek interpretive trails are easy going. They offer explanations of rain forest plants, the succession cycle, life and wildlife.
Barnes Creek itself heads south into the mountains. From the parking area one can continue along the creek for a long ways. You can follow the creek to extend your explorations, or you can take a longer hike, but do be prepared as the trail runs into miles of wilderness.
Spruce Railroad Trail runs along the north shore of the lake. It was once a railroad built to provide spruce wood for airplanes during the first world war. It is now a wide multiple access trail, part of the Olympic Discovery Trail. The old caves are now tunnels, but there is still that footbridge at the Devil's Punchbowl. It isn't quite the wilderness experience it once was, but it runs along the lake which is as beautiful as ever.