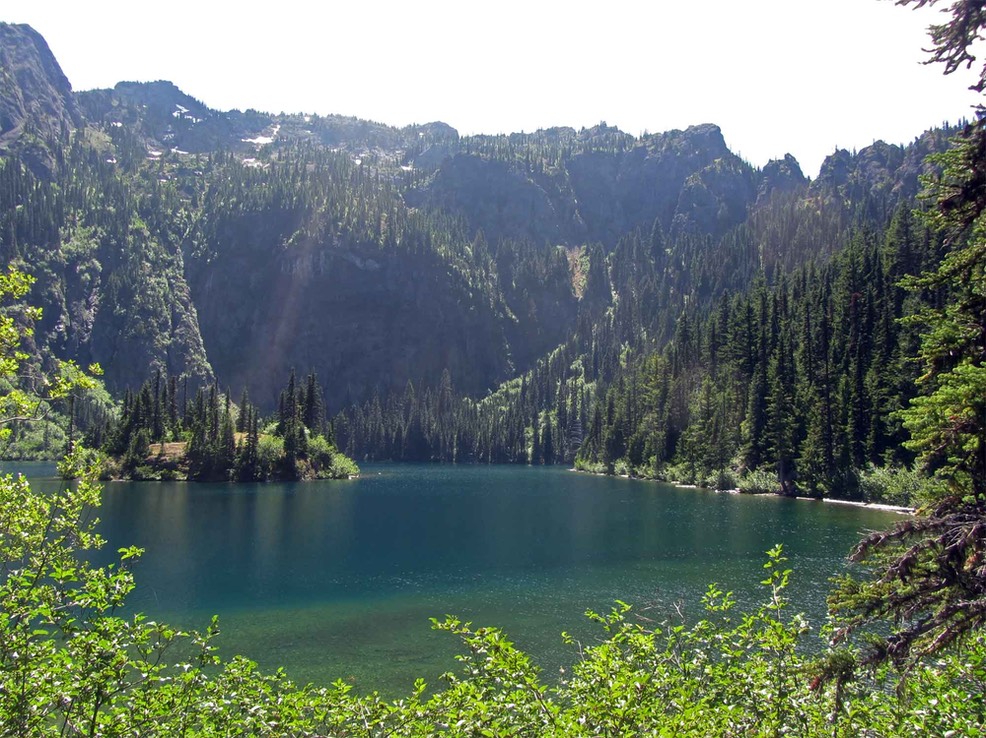 Lake Angeles is roughly two thousand four hundred feet above the trailhead not far from the park entry station on Hurricane Ridge Road. It is a cathedral of a trail. It leads through forest, mostly new growth, but full of tall towering trees as the trail ascends and ascends. It starts with a stream crossing and the forest undergrowth is lush, but it quickly grows sparser and then sparser still.
You don't have to climb all the way to Lake Angeles proper to enjoy this trail. It is open most of the year, and even if you only climb 750' to the stream crossing, the hike is most rewarding. Look carefully to your left at the end of the boardwalk for the entrance to the campground which offers more views of the stream ahead. Pay attention to the undergrowth as you climb. There are all sorts of plants in a dense matrix of green. In season there is Pacific dogwood, salal, trilliums, Indian pipes and many mushrooms.
If you have the strength, climb to all the way to Lake Angeles. The lake nestles in a bowl of mountains with high rocky walls. In the summer, you can swim in the lake, so it is worth bringing a swim suit and a towel. The more adventurous can swim to the island in the lake. The rest of us can enjoy the lake from the its shore.
TIME: It takes about 35 minutes from the trailhead to the first stream crossing. The round trip to the lake takes closer to three hours and forty minutes, and you'll want some time to explore.
NOTES: This trail goes up, up, up. 
Time: 1:10, to the lake 3:40
Driving time from Port Angeles: 0:15
Admission: technically ONP admission required, but this trail starts outside the park
Facilities: None
Kaleberg Website - Lake Angeles