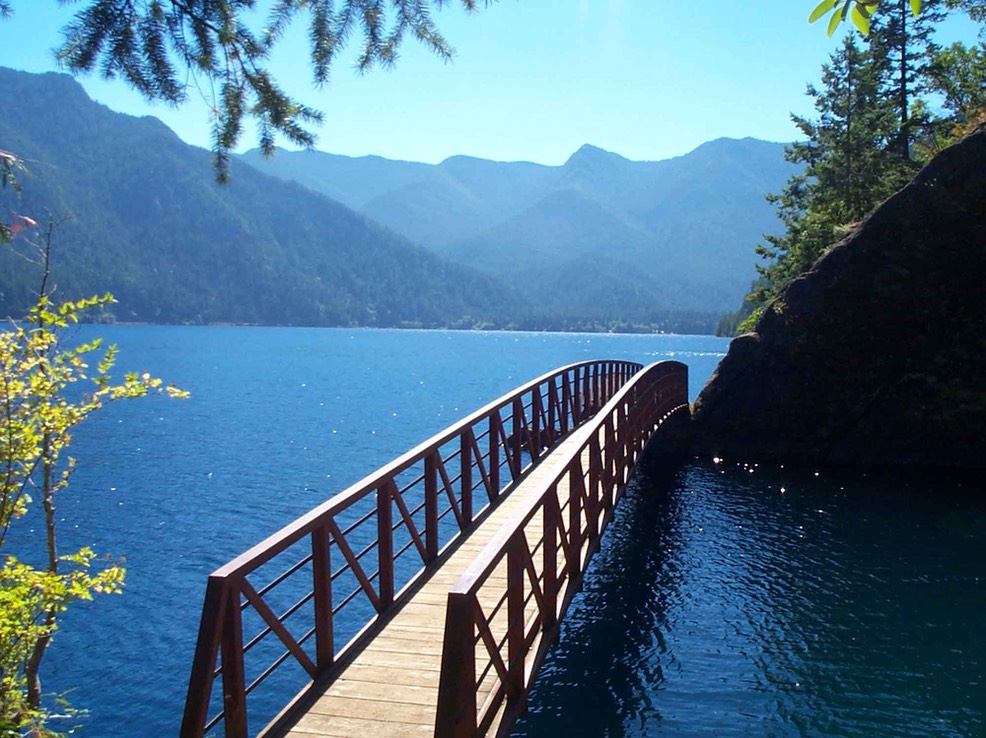 The Spruce Railroad Trail really was once a railroad. It was built for carrying spruce wood for use by the aviation industry during World War I. The railroad is long gone, though the railbed and two rail tunnels still exist. The trail runs for nearly four miles along the north shore of the lake and offers gorgeous views of the lake, Mount Storm King and the mountains to the south.
The Devil's Punchbowl, about 30 minutes from the trailhead, is a popular local swimming spot. It offers possibly the coldest waters in the lake which being eight hundred feet deep and fed by glacial streams has some pretty cold water in it. The water is slightly alkaline, so it feels silky on one's skin. There is also a tunnel to explore near the Punchbowl.
If you are more adventurous, you can walk all the way to the far end of the trail, one hour and twenty minutes each way. The views are beautiful and the trail level. There are the usual rain forest plants, but also sedums and lichens growing in the warmer spots.
NOTES: An easy trail. Bring swim gear in the summer.
Time: 1:10, to the Devil's Punchbowl, 2:40 to tend and back
Driving time from Port Angeles: 0:30
Admission: technically ONP admission required
Facilities: Latrine
Kaleberg Website - Spruce Railroad Trail