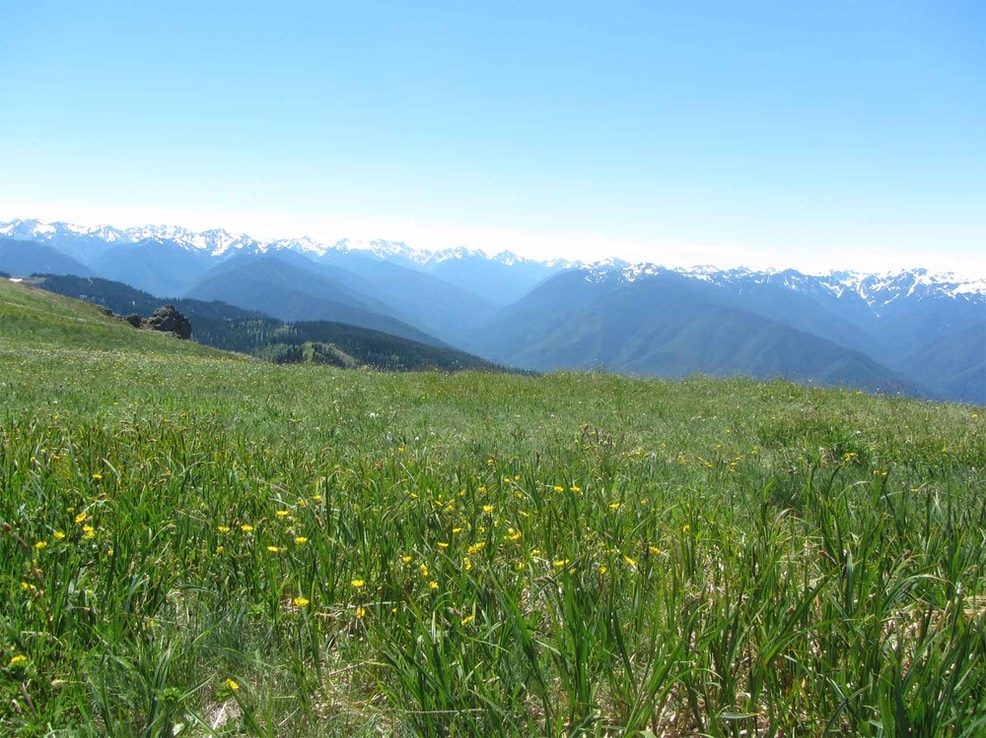 This hike is simply spectacular. The trail starts following the ridge with a wide open view of the glacier covered Olympic Mountains across the Elwha Valley to the south. The mountains are distant, but immense, and the scale of them is hard to grasp. The Blue Glacier on Mount Olympus is prominent, almost a spiritual presence. The trail is lined with hard weathered mountain trees, some twisted by the severe weather. There are the alpine flowers, starting with the avalanche lilies that bloom in the wake of the melting snow, followed by sweetly scented patches of phlox. Then comes the true efflorescence with lupines, paintbrush, shooting stars, glacier lilies and wild rosese. As the season progresses the yarrow follows with the harebells as the grasses turn golden and darken.
There are views north even near the start of the trail, but the focus is to the south. Then the trail begins to climb, then it passes through a small forest before emerging on the face of Hurricane Hill itself. As one climbs, the views get even better. Down below are valleys. Watch for bears. They like the seasonal ponds below. Also watch for golden marmots. They are often found in the fields by the trail. The switchbacks lead exhaustingly upward, then the summit appears. It is worth the climb to the very top. Here the whole world seems to be at one's feet with mountains, the strait, the islands and the mainland all visible. Mount Baker, 75 miles away, appears as a meringue floating in the sky.
There is a short side spur not far from the summit. The trail itself heads down to Whiskey Bend, but for the first half mile or so it offers some spectacular views of its own. There also may be corn lilies, false hellebore, in bloom, and more golden marmots afoot.
The trail can be a bit crowded in the peak summer season. The small trailhead parking lot is often full. If you come early, right after breakfast, you can often find a spot, but there is also a backup parking lot about 1/4 mile back along the road. It has its own off road access trail to the main trailhead.
TIME: Allow at least an hour and a half for the round trip to the summit. Add twenty minutes or so for the side spur and another twenty minutes if you are starting from the backup parking lot.
NOTES: The trail is easy at the start, but gets steeper. Parking can be a problem in the peak summer season.
Time: 1:30; with the side spur 1:50
Driving time from Port Angeles: 0:55
Admission: ONP admission required
Facilities: None, cell phone coverage, but probably Canadian, so turn off roaming
Kaleberg Website - Hurricane Hill